The ideal match: translation management systems and CAT tools
Computer-assisted translation (CAT) tools have become an integral part of the day-to-day work of our translators. These computer-aided translation tools are linked to your translation memory and terminology database to ensure consistent translation of terms, titles and recurring text, such as slogans and claims. By connecting to our systems, you can automate many processes.
We use a range of different translation management systems, depending on the project and requirements.

A consultation is the basis of needs-oriented language management
You have ideas about what your language process should look like with or without a translation management system, but you don't know how to go about implementing it? Or would you like to make your existing system more efficient? Then it's worth talking to our experts. They demonstrate how we build and maintain a terminology database and a translation memory, what you can expect from our technological development department, and where we host your data. It goes without saying that you will also find out more about our quality management at Apostroph Switzerland.
Find out more about language management consulting

«The fact that we can rely on CAT tools in our collaboration with Apostroph is really worth its weight in gold. Not only are all translations always consistent – we also save costs through efficient processing.»
Do you have any questions about language technology or a planned project?
I would be happy to tell you more about our development department and our technological possibilities – and introduce you to Apostroph Group.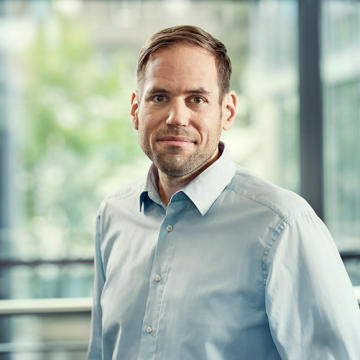 Translation memory: translation archive and research base in one
The translation memory system has a remarkable talent. For example, it stores every translated source and target language segment and assigns it certain attributes, such as specialist field, sector or corporate customer. In later translations, the system automatically suggests these segments if the algorithms consider them relevant. The language professional will then decide whether the suggestion fits into the new translation or not. And the database has another advantage: it can also be used for research. As a result, the translation memory reduces the translation effort, which is also good news for your finance department.
The terminology database brings order to terminology chaos
The CAT tools are not only linked to translation memories, but also to a terminology database that is developed and expanded in close collaboration between the customer and language professionals. When translating, researched terms are stored in this "data brain" and serve as a reference for the translation teams in future. A link provides both your in-house staff and our language professionals with online access to a dynamic glossary. This ensures that everyone uses the same terminology and that your texts are phrased uniformly – in all languages.
Any questions?
A CAT tool is a computer-aided translation tool that allows file-independent editing of the text in an editor. The advantage is that sentences and passages stored in the translation memory (TM) from previous translations are automatically retrieved and can flow into the translation. A digital glossary from Apostroph is also available. CAT tools enable translators to work faster and more efficiently, and ensure that the company's terminology is consistently adhered to.
Find out more about translation technology
A terminology database (also known as a termbase) is a collection of technical terms from a company or industry in two or more languages. Apostroph makes this available to the translator on a server via a CAT tool.
Find out more about translation technology
Yes. Our translation technology specialists would be happy to advise you on the wide range of possible applications and explain the systems within translation technology.
Find out more about translation technology
Yes. Our team of specialists, consisting of solution architects and translation engineers, would be happy to provide you with comprehensive advice.
Find out more about process automation
We support our corporate clients in the creation and maintenance of terminology databases and translation memories and support them in all aspects of their IT infrastructure. If you would like to know more, we would be happy to give you detailed advice on how to optimise and expand your in-house language processes.
Find out more about language management consulting
We have a wide range of solutions for system connections. We establish a secure connection to all relevant CMS, editing systems, PIM, sourcing platforms and company-specific systems via apoCONNECTORS, API connections or hot folders. We also support other market-relevant tools. If you would like to find out more, please contact us.
Find out more about interfaces
Apostroph's in-house IT department comprises software and translation engineers, solution architects, IT support and a Head of Translation Technology.