Different needs – different types of interpreting
Simultaneous interpreting is divided into two types. Firstly, booth interpreting, which is used at international conferences, congresses and meetings with a large, multilingual audience. Secondly, whispered interpreting. This is particularly suitable if, for example, you are meeting with a business partner for confidential negotiations.
The interpreting is either provided in whispered form or by using a bidule, which is equipped with multiple headphone ports and is suitable for meetings of up to 20 participants. The device is simply delivered by courier and you don't need interpreter booths or technicians. Remote interpreting is another option; this is carried out via an online platform. We would be happy to advise you on the best type of simultaneous interpreting for your specific case.
For particularly demanding industries: simultaneous interpreting with specialist expertise
Apostroph Switzerland has been a top provider of interpreting services for decades. That's why we are also used by companies that require language professionals with specialist knowledge, for example in finance or medicine. Apostroph supports you with qualified simultaneous interpreting professionals who possess the necessary knowledge and the appropriate technical vocabulary.
Full service from interpreting to PR translation
There are events that require more than one type of interpreting. For example, imagine you are organising a conference followed by a tour of your plant. You have invited interested parties from Japan, South Korea and the United Arab Emirates. Three simultaneous interpreters will be available for your presentations. On the tour of the company, the attendees are split into groups according to their language. These are accompanied by consecutive interpreters, who will translate everything your specialists say with a slight delay.
Finally, you give your guests some documentation to take away with them, including a written summary of the conference. As a full language service provider, we also translate all your documents, meaning we can organise the language requirements of your entire event, from the soundproof booth and technical equipment to the translation of your PowerPoint presentation.
Find out more about consecutive interpreting and editorial translations
Do you have any questions or are you interested in working with us?
I would be happy to answer your questions or introduce you to Apostroph Group and our services in a personal meeting.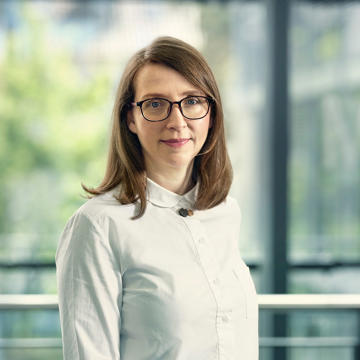 The advantages of our simultaneous interpreting services at a glance:
Only professionals with a completed degree or recognised diploma in interpreting
Use of native speakers without exception
Specialist expertise in medicine and the pharmaceutical industry, finance and insurance, law and technology
Assignments for Swiss and international companies and organisations
Linguistic brilliance
High resistance to stress and above-average concentration skills of the interpreters
Absolute confidentiality
Flexibility and reliability
Technical support