Remote interpreting is the first choice in many places
Apostroph continues to offer traditional interpreting services, but remote interpreting (RI) – also known as distance interpreting in technical jargon – is becoming increasingly important. Among other things, the pandemic has contributed to this as a result of more people working from home and the growing number of online meetings.
RI facilitates multilingual communication across borders, is extremely flexible and entails lower costs. All you need for a remote meeting is a stable and secure Internet connection, a smartphone or a computer, and a professional software platform that is suitable for this purpose. And, of course, absolute professionals who move eloquently between the source and target languages. Apostroph provides you with the right language professionals as well as the technical expertise.
Pharmaceuticals, technology or another area of expertise?
Our customers know that we only work with experienced and qualified interpreters who exclusively interpret into their mother tongue. We also employ specialists who have the appropriate know-how in law, medicine or other sectors and are well versed in terminology. With the information and documents you have compiled, our interpreters can prepare themselves for your remote event and impress listeners with their eloquence and expertise.
We ensure the best connections
In recent years, platforms such as Zoom, GoToMeeting, Teams, Slack and Skype have really taken off. However, not all programs are suitable for distance interpreting. Our specialists will be happy to advise you on which tool is recommended for which form of use.
To make life easier for you, we also take care of the setting, including planning and setting up the platform. If you leave these preparations to Apostroph, your remote meeting will be connected in any language.
Remote interpreting is easy on the budget
As the interpreters do not have to be physically present on site, you will save costs. This eliminates the need for travel, hotel and catering for the language professionals, as well as the need for rental and installation of technical interpreting systems and external rooms. Last but not least, distance interpreting is easier to organise and thus increases flexibility. Whether simultaneous, consecutive or remote, one thing is always the same: the high quality of our interpreters.
Do you have any questions or are you interested in working with us?
I would be happy to answer your questions or introduce you to Apostroph Group and our services in a personal meeting.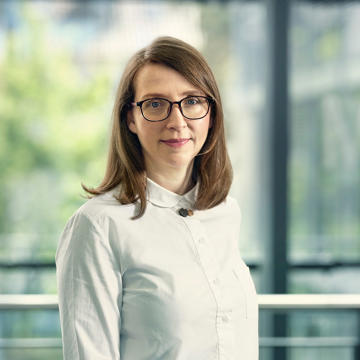 From interpreting to translating PowerPoint presentations
Translations are often necessary even if you are communicating with your business partners or suppliers over the Internet. This applies to charts and PowerPoint presentations, for example. In addition to interpreting and technical support, Apostroph also offers a full range of language services. For example, we can transcribe your online event or translate your presentation and negotiated contracts into the desired target languages.
Find out more about translations and transcription
The advantages of our remote interpreting services at a glance:
Only technically experienced professionals with a completed degree or recognised diploma in interpreting
Use of native speakers without exception
Specialist expertise in medicine and pharmaceuticals, finance and insurance, law and technology
Assignments for international and Swiss companies, organisations and authorities
Numerous language combinations
Interpreters possess above-average concentration skills and are resistant to stress
Reliable advice, set-up and technical support for hybrid formats, too
Absolute confidentiality
Flexibility and reliability