Better advice right from the start
We listen to you so that we know your needs, problems and wishes. This information forms the basis on which we outline initial solutions. We show you how to streamline processes with your own software solutions, optimally integrate machine translation and special tools into your language management, as well as which interfaces are best for you to work with. That's because at Apostroph we always act according to the principle: every company is unique and therefore needs a unique solution.
Do you have any questions about language technology or a planned project?
I would be happy to tell you more about our development department and our technological possibilities – and introduce you to Apostroph Group.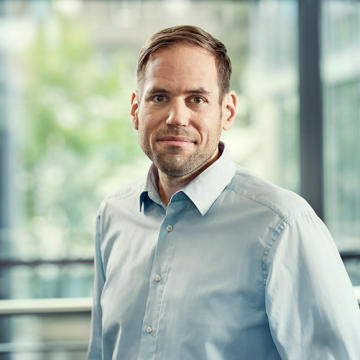 Translation memory: language consistency and cost savings
The second important element is the translation memory, which logs your use of terms, slogans and other recurring text content. The system can be integrated into a language management system for all important language combinations. The advantages are consistent language, efficient processing and cost savings, which we pass on to you.
Find out more about translation memories and terminology databases by visiting the section on translation management systems
Perfect translation automation thanks to TM, TDB and interfaces
apoAI is the label of our proprietary machine translation engine. It is based on the neural machine translation system and differs from conventional machine translation systems – because our translation generator is capable of learning. In combination with terminology database (TDB) and the translation memory (TM), our apoAI is at its best. Trained in your company-specific vocabulary and the storage and automatic retrieval of recurring passages, our engine delivers translations that are well above average. This also massively reduces the effort involved in post-processing.
Find out more about machine translation solutions
Any questions?
We support our corporate clients in the creation and maintenance of terminology databases and translation memories and support them in all aspects of their IT infrastructure. If you would like to know more, we would be happy to give you detailed advice on how to optimise and expand your in-house language processes.
Find out more about language management consulting
We have a wide range of solutions for system connections. We establish a secure connection to all relevant CMS, editing systems, PIM, sourcing platforms and company-specific systems via apoCONNECTORS, API connections or hot folders. We also support other market-relevant tools. If you would like to find out more, please contact us.
Find out more about interfaces
Because innovation plays a crucial role in our company, we are constantly developing new solutions to further optimise translation processes. This includes state-of-the-art translation management systems and interfaces to CMS, PIM, editorial or company-specific systems. On request – and where appropriate – we can also implement machine translation. With our apoAI, we offer outstanding translation quality, which enables lean or even fully automatic processes, thus making handling more efficient and cost-effective.
Find out more about optimising translation processes
Apostroph's in-house IT department comprises software and translation engineers, solution architects, IT support and a Head of Translation Technology.